Great content takes time and is hard work. Thankfully, there's no shortage of tools that can help you create better content and get better results, faster.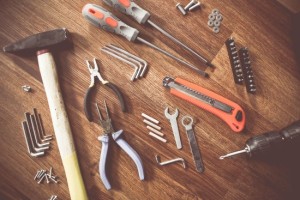 Easel.ly is a tool that allows you to create infographics from a huge selection of templates.
It's free to get access to 60 images and 10 fonts, or just $3 a month for a pro account and access to "1000s" of images and more than 50 fonts.
Thinglink is a nifty little tool that allows you to add an extra dimension to imagery and video by making it interactive – no coding knowledge needed.
IFTTT (short for "If this then that") should be a must-have in any marketer's toolbox.
In short, it allows you to automate a huge range of tasks. The longer explanation is that it connects two services together, and uses formulas (known as "recipes") to trigger a particular action, when a corresponding action occurs.  FTTT is completely free, although the services you connect with it might not be.
Trello is a simple task management system that makes it really easy to collaborate on projects. It's ideal for managing a content marketing strategy, but I've found it to be just as useful for collaborating with my team (and clients) on projects of pretty much any description.
see more at: marketinginsidergroup.com/content-marketing/10-time-saving-content-marketing-tools-add-arsenal/
source http://marketinginsidergroup.com/content-marketing/10-time-saving-content-marketing-tools-add-arsenal/