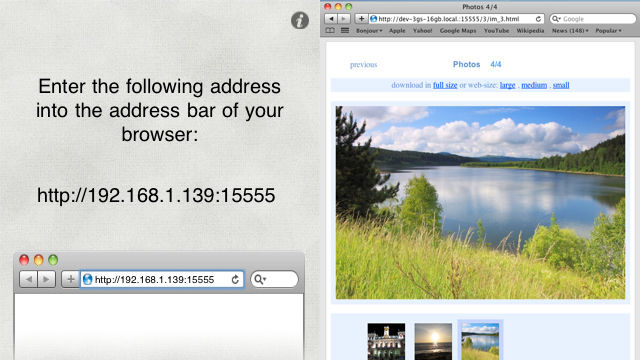 Transferring pictures from your iPhone to computer can be annoying! Plugging in a cable and waiting for Image Capture to load and then syncing pictures over?
Wi-Fi Photo Transfer for iPhone is completely free.
Wi-Fi Photo Transfer only brings photos from your iPhone to your computer, but it's really easy to use.
Just make sure you're on the same Wi-Fi network, fire up the app, plug in the right address in your browser and you can pick and choose which pictures you want to bring over (you can even download them into a zip folder).
If you take a lot of pictures on your iPhone and want to bring them to your computer without plugging in, Wi-Fi Photo Transfer is what you need.
PhotoSync, $2, iPhone and iPad. It's an app that can get your pictures from your iPhone and bring it to your iPad or computer. Or get pictures from your computer and bring them to your iPad or iPhone. Or…yeah you get the point. It's wireless photo syncing that Apple should have implemented to iOS a long, long time ago. And it's fast! Grab your pictures and go, works over Wi-Fi and Bluetooth.
via Business Insider