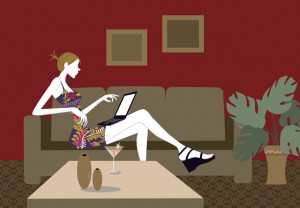 Emails may be the best way to reach an affluent  inbox, with 49% of respondents saying they had or were likely to opt in to receiving emails from a luxury brand.
However, digital didn't appear to play a major role in US affluent internet user research or purchase processes when buying luxury items.
Just 22% of respondents said they researched online and then purchased in-store, indicating they may not get inspiration for luxury purchases during digital browsing.
Meanwhile, only 15% of respondents researched in-store and then bought online, possibly because they didn't feel comfortable making expensive purchases digitally—or maybe they just wanted their luxury items instantly.
August 2013 research by Shullman Research Center found that online channels were where US affluent internet users with a household income of at least $250,000, felt least comfortable making purchases, with half saying they did not feel OK buying something via a smartphone, tablet or computer.
Via: http://www.emarketer.com/Article/Affluents-Dont-Want-Texts-Luxury-Brands/1010867
Related articles