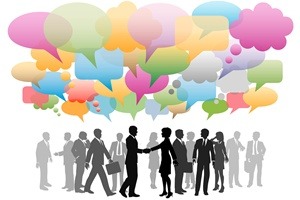 Here's what we recommend for more effective content curation.
1) Be intentional about your themes & topics
.
Stay reasonably focused on a small handful of themes.
2) Pull from a consistent set of sources (to save you time).
You'll likely encounter good content from all over the place, but identify a core set of sources you can count on for both consistently good content as well as a variety of sources of similarly-themed content.
This includes a handful of great blogs and newsletters, plus topical aggregation sites like Alltop.
SmartBriefs newsletters for this reason, since they pull from a wider variety of sources than I typically read on a daily or weekly basis.
3) Use an automated queuing and distribution system
.
This technology helps offer a one-click, easy to curate process so you can queue content from your browser, as well as several feed aggregation apps such as Feedly.
Anything that makes it easy to pick content to curate, quickly choose which channels it will be published through, and then automatically space it out over days and weeks is preferable.
4) Always give credit back to the publisher.
It'll be their attention-grabber, and could drive more reciprocation and curation of your own content as a result.
5) Post across channels to increase reach and awareness growth.
Don't be afraid to curate good content across Twitter, your Facebook company page, and your Google+ page at the same time.
6)One post a day is fine.
You'll need to play the numbers game a bit so that a small percentage of your curated content reaches and impacts your intended audience.
7) Actively curate 2-3 times a week, max.
If you're using an automatic distribution system, you don't need to find new content every day.
8) Make instant curation one-click easy from your browser.
If your tool has a bookmarklet, use it so that you can do one-click curated content from anywhere you happen to be reading.
9) Use team tools to increase contributions.
Social Inbox, Buffer and other tools make it easy for teammates to suggest their own curation recommendations. It's a great way to get others involved and cut down the time required from you to curate everything yourself.
10) Spread out posts from the same consistently-good sources
.
There are a handful of blogs and sources I read on a regular basis that consistently have great stuff. And when I curate content only 1-2 times a week, it would be easy to queue up content from one source all in a row. Instead, try to space it out a bit.
11) Prioritize content from partners and prospects.
Might as well make an impression with the people you care about most at the same time you're curating.
Source: 11 Best Practices for More Effective Content Curation
Related articles