No longer do marketers write purely promotional material and blast it out across every channel, they now take the time to research and craft quality and valuable content for their target market to consume.
The goal of today's content marketers is to establish thought leadership, so that when the times come for a prospect to make a purchasing decision, their company will be at the top of their mind.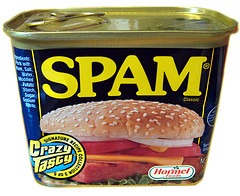 Many marketers get content curation confused with "auto-blogging" – a very unfortunate mix-up, since auto-blogging can often be counterproductive.
Auto-blogging requires a plug-in that scours the web for certain keywords, regardless of the value of the actual content, and automatically publishes it on your own blog.
Content curation need not be a time consuming practice, but it should also not be based on a spam strategy.
The content that a marketer curates may not be his or her own, but the messaging included when sharing this content, should be unique and provide value.
There are two main channels for content curation that are available to marketers:
1. Blogs
The types of content that can be curated are not limited to blogs, nor is the channel for curation limited to social. While social media is the easiest and most popular conduit for content curation, a marketer could use his or her own blog for curation.
In order to differentiate this practice from auto-blogging, it's important not to automate this process, but put real thought and effort into identifying the right content for your target market. In addition, you should present it in a way that lets the reader know that it's been curated from an outside source.
When using a blog for curation, it's vital to understand that this practice may have negative SEO consequences, as search engines such as Google look for sites that create unique content, and rewritten and unoriginal content may rob your blog of badly needed "SEO juice."
 There are several blogs that are expressly focused on content curation. These blogs provide readers with fantastic content – both original, as well as syndicated from elsewhere. Often times, syndicated content reaches a far higher level of virality on one of these sites than from its original source.
2. Social Media
Social media is the most popular, and powerful, way to share curated content. The benefits of utilizing social channels for content curation is that it is immediate, widespread, targeted, and can be enriched by your own "social content" input. Each social network provides its own benefits in terms of content curation. While the list of social networks is continuously growing, here are some tips for curating content on a few of the "larger" social networks.
Facebook
Facebook is the largest and most active social network on the planet; it is also the first one that really "took off." Having an active and engaging Facebook community is an absolute must for any company or business, and content curation is one of the best ways to accomplish this.
Twitter
After Facebook, Twitter is the most active social network, and the most popular channel for content curation. The acceptance of large-scale posting over the course of a single day, visibility of posts beyond your own community, and direct access to thought leaders makes Twitter one of the best places to really establish yourself as a valuable source for curated content.
Google+
Depending on whom you ask, Google+ is either the best thing since sliced bread or a cheap knock-off of Facebook that is on its last legs. Still, there's no doubt that it is a social channel that needs to be leveraged – particularly for content curation.
LinkedIn
LinkedIn, more than any other social network, should be the major focus of business marketers – particularly B2B marketers. LinkedIn is a great place for networking, but what many marketers may not know is that LinkedIn is the single largest contributor to leads generated from social media for B2B marketers. How are leads generated from LinkedIn? By distributing content – both original and curated.
LinkedIn provides several channels for curated content distribution.
Personal Profiles Any company should be leveraging the power of its employees' LinkedIn profiles. Creating evangelism within the company gives significant social proof to the business, while reaching a larger audience. Profiles that are used for content curation should prominently display their association with a specific brand in order to make the connection clear.
Company Pages If your business does not yet have a LinkedIn Company Page, stop what you are doing and go create one now. Run, don't walk. A strong Company Page on LinkedIn will establish your business as a respected company, and give you visibility in a social network that is frequented by your target market.
Discussion Groups  The explicit focus of these gGroups, makes curating quality content to the most relevant audiences possible.
 Pinterest
Pinterest is a social network that is almost exclusively focused on curating content. The Pinterest browser plugin lets users "pin" any visual content they come across while surfing the web. Creating a "board" on Pinterest that is focused on various aspects of your company's offering will ensure that the type of person discovering your curated visual content will be relevant to your offering.
Source: Succeed With Content Curation