What do content strategists need to understand to be successful today? In the next three years?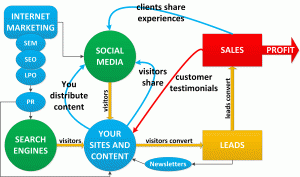 Systems, systems, and systems. It's not enough to make a video go viral, to design a funny infographic, to write that killer blog post.
Plan for and develop the content systems that help our brands go the distance and endure for the next hundred years.
And not just technological systems, but also the infinitely more complex people systems.
To be successful, content strategists need to be able to map out people, processes, and politics (contrary to popular belief, they exist!) and the roles they all play in creating and maintaining content in your organization. Understanding people is the first step toward building a great system that they can use.
Get out of the business of creating individual things like videos, infographics, blog posts, and other artifacts. And instead, get into the business of creating and planning for the systems that make, manage, and distribute those things.
What's the biggest content strategy opportunity that companies can take advantage of in the near future?
Organizations need to understand that metadata is far more than just data.
There are companies that are still optimizing for meta-keywords, even though it does them no good — and wastes a non-trivial amount of their time and other resources.
Wiser marketers are employing page-level metadata standards like Facebook Open Graph, Twitter Cards, and Schema.org to drive more visibility and engagement with their content. But even that's still just dipping your toes in the water.
Metadata can do far more than aid in SEO or increase clicks in social media.
What will the next generation of content strategists need to know to be successful?
Part of what makes the content strategy industry great is that we all come to it from so many different paths: technical communication, user-experience design, library science, marketing, information architecture… no matter their skill set and experiences, everyone gets a say.
Everyone has a seat at our table, and what keeps us creative and nimble is what helps us evolve: our diversity and humility.
Source: August 2014 issue of Chief Content Officer.
Related articles