Online content generation is increasing the amount of information we receive. At the same time, the Internet and connected devices allow us to get and use it more efficiently.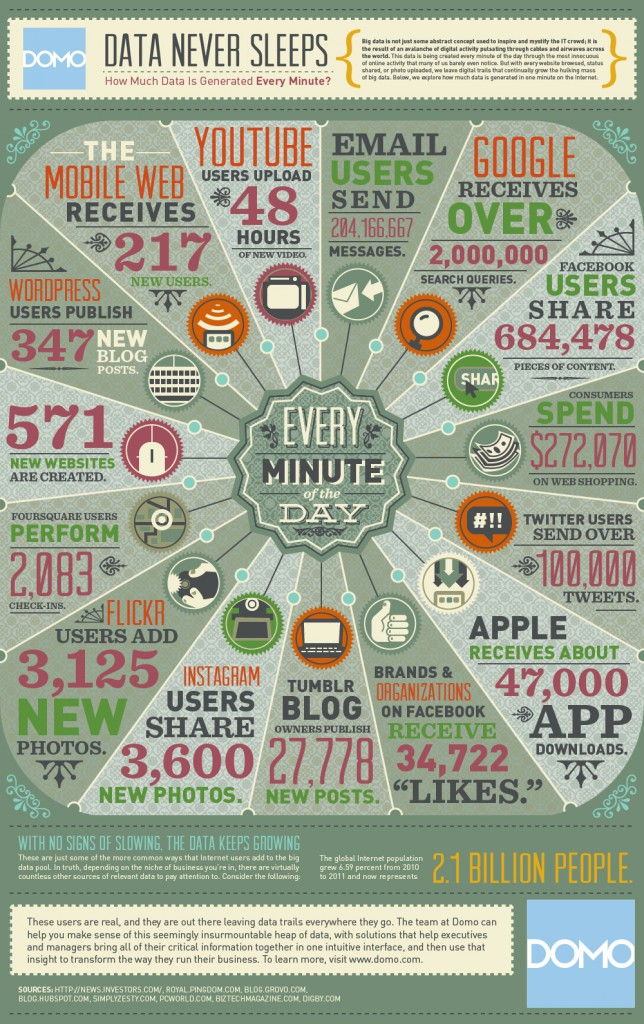 Here are 15 types of online content generation we create every 60 seconds.
571 New websites are created. Websites are where we establish ourselves and our businesses.
374 New WordPress blog posts are published. Blogs are alive and well.
217 New mobile web users. This shows a trend towards mobile first and possibly mobile only.
48 Hours of new YouTube video are uploaded.
204,166,667 Email messages are sent. 
2+ million Google search queries are made. Google's changed how we find information. It's our new index system.
684,478 Pieces of content are shared on Facebook. We're more connected with more people more of the time.
$272,070 spent by consumers online. People are comfortable with online retail.
100,000+ Tweets are sent. Short form content is easy to create and share compared to longer text.
47,000+ Apple app downloads.  Apple users are willing to try new apps.
34,722 Likes are received by brands and organizations.
27,778 New Tumblr blog posts are published. These shorter form, visual posts are being created  at a high rate.
3,600 Instagram photos are published.  Don't underestimate their value for supporting sales.
3,125 Flickr photos are added. Flickr is on par with Instagram and you can upload non-photographs.
2,083 Foursquare check-ins are made. Some people want others to know where they are.
Read more: Online Content Generation: 15 Facts Marketers Need