Since the birth of e-commerce, marketing experts have disagreed about the future role of brands.
Some have predicted that digital technologies will hasten the demise of brands because customers will have ready access to information they need to make purchase decisions, and "brand" will, therefore, become less relevant.
Others have prophesied an increasing importance of brand as a simple way to evaluate choices in an era of information overkill.
To find out which school of thought is more accurate, we looked at the value of brands and customer relationships as revealed by M&A data covering over 6,000 mergers and acquisitions worldwide between 2003 and 2013. The beauty of M&A for examining valuation trends is that M&As reveal the dollar valuations of all assets at the time of the acquisition. Upon acquiring a business, companies have to value the different assets they acquired for their accounts and balance sheet in accordance with accounting and reporting standards. These valuations include – among other assets – brands (trademarks) and customer relationships.
This graph, based on data from the
MARKABLES
database, represents brand and customer relationship valuations as a percent of total enterprise value. The percentages come from fair value assessments done by purchase price allocation experts according to established accounting standards.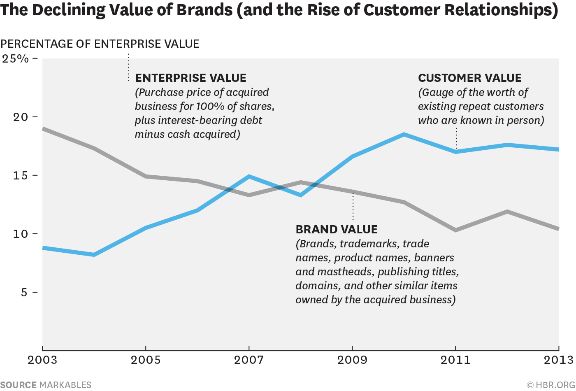 As the graph bracingly shows, brand valuations declined by nearly half (falling from 18% to 10%) while customer relationship values doubled (climbing from 9% to 18%) over a decade. All other categories of intangibles remained stable. These numbers reveal a dramatic shift in the strategic approach to marketing over the last 10 years. Acquirers have decisively moved from investing into businesses with strong brands to businesses with strong customer relationships.
M&A strategies often concentrated on brands and on growing brands through better brand management and internationalization.
Today, such brand growth strategies appear to be either limited or too expensive.
Instead, M&A strategies now concentrate more on acquiring firms with strong customer relationships – with all the loyalty and cross-selling benefits that confers.
This trend is powerfully reinforced by digital technologies. These allow more direct interactions with customers, bypassing expensive middlemen and reducing the cost of sales and marketing; they allow firms to optimize customer lifecycle management based on detailed data and analysis of customers' needs; they improve efficiency and quality across the value chain as a result of continuous customer feedback; and, finally, they facilitate the realization of merging two brands into one, or rebranding. As a result, the price of direct engagement with customers relative to traditional branding and media campaigns has dropped while the effectiveness of such marketing efforts has grown.
There is a parallel development on the demand (customer) side. Digitalization makes information, including information about brands, easily accessible. For example, a customer shopping for a new car can now instantly examine and compare the specifications and performance of different car models.
Thus, purchasing decisions have become more fact based, and less brand-image based. Customers still value strong brands, but what constitutes a strong brand is now more dependent on customers' direct experience with an offering, and with their relationship with the firm that produces it.
Marketing resources now directed at brand building should be more fully integrated with those designed to reinforce relationships. Strong brand communications are and will remain important especially in attracting new customers and in enhancing desirability for higher price premiums.
As Peter Drucker said, well before the advent of the information age, the sole purpose of a business is to create a customer.
source hbr.org/2015/04/why-strong-customer-relationships-trump-powerful-brands