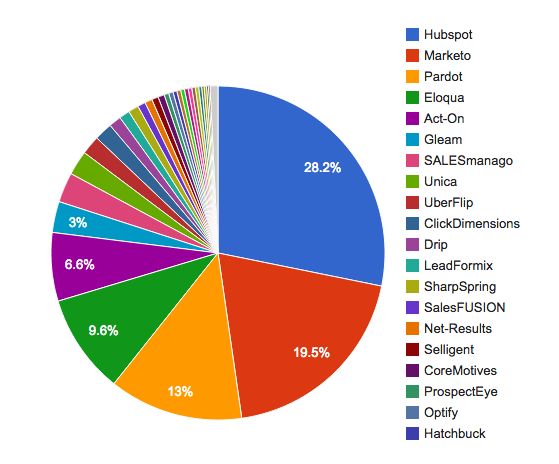 Marketing Automation Market Share (Source: Datanyze)
A key contributor to the current state of marketing automation is the fact that its roots stem from email blasting. As these systems layered in landing pages and forms, web activity data, triggers, etc. over time, they became bloated from trying to do too much and began to over-promise and under-deliver.
There is a Lack of Automation in Marketing Automation
The biggest problem is that these rules are hard-coded to specific user actions based on an aspirational understanding of what constitutes a good lead, versus based on what the data says.
It is time to reinvent marketing automation. Platforms should provide scalable, incredibly fast and responsive database and workflow systems. They should be thinner and optimize for tracking the data about your leads and customers.
They should provide clean APIs (that are from the 21st century) so third parties can build specialized, best-in-breed experiences on top of them.
The good news is key ingredients are now coming together to prime a major shift in this direction – including vast external data sources, advanced data science and thousands of niche, more focused marketing apps. Over the next three years, we'll see a new generation materialize.
Predictive-First
Rather than trying to house everything in one monolithic marketing automation system, tomorrow's platforms will be more intelligent and thinner, plugging in many smaller specialized applications. They'll use a wealth of data to deliver relevant recommendations across your key customer touchpoints.
The data science available to decipher all of the signals out there has evolved dramatically through major advances in practical machine learning (think Netflix movie recommendations). And with cheaper computing infrastructure, modeling can be scaled and personalized to each individual company.
Predictive intelligence is now table stakes for all businesses, and new platforms in combination with niche apps will make it more accessible and actionable end-to-end.
Predictive systems can learn, adapt and improve on their own with every customer action.
Next-generation marketing platforms offer powerful open APIs
so any company can build very focused and insightful best-of-breed tools that are better than a non-intelligent version from one of today's all-encompassing platforms.
There have been billion dollar businesses built on AppExchange, but we don't see major successes like that built on marketing automation platforms because their ecosystems and APIs are still in their infancy. That's a shame since there are so many best-of-breed apps out there that outdo the default or missing functionality in marketing automation.
Just as the rise of cloud computing has ushered in the "end of software," predictive platforms are poised to revolutionize the marketing automation category. In the future, marketing will be about much more than managing campaigns and tracking prospects' behaviors.
New platforms will help you reimagine your workflows, programs and actions in the context of increasingly powerful predictive insights. They'll bridge the gap with sales by bringing CRM and marketing automation closer together with predictive as the glue.
Our best shot at changing the game is to make predictive a layer in a thinner, more scalable data platform, and to tie in best-of-breed applications that are optimized to drive more conversions and wins.
Source: techcrunch.com/2015/04/23/the-future-of-marketing-automation/