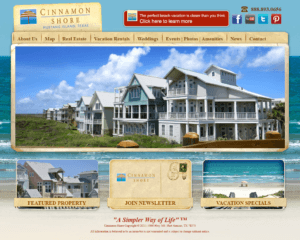 Cinnamon Shore weathered the economic recession and three hurricanes with leads that kept coming, thanks to Amplified Content Marketing.
ACM helped Cinnamon Shore stay in front of qualified buyers with a superior digital marketing strategy.
ACM laser-targeted buyers and renters and bought advertisement only where those well-qualified customers live on the internet.
ACM presented customers with appropriate sales and rentals landing pages that captured their contact information and delivered it to a CRM.
The results? Cinnamon Shore survived the recession and thrived, with landing pages increasing leads by nearly 600 percent.