Good marketing nowadays revolves around inbound marketing. And the good news is that if you have a blog, you are already on your way toward creating a great inbound marketing strategy.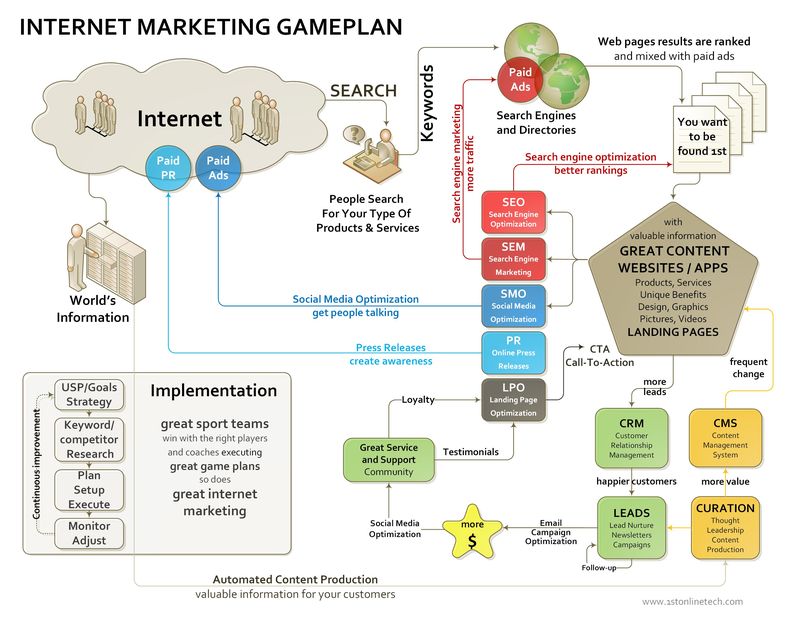 Checklist for Launching an Inbound Marketing Plan in WordPress
1) Attract: Get to know your ideal target audience and create content that speaks directly to them by solving their biggest pain points and uses a language they can relate to.
2) Convert: Convert your visitors into leads by capturing their contact information
Include forms on your site where visitors can submit their information such as their name and email address.Tools: PopUp Pro, LeadIn, SideOffer
Include calls-to-action which will encourage visitors to take action such as share your content on social media, sign up for your free offer or download a free resource.Tools: MaxButtons, Inbound Now
Create dedicated landing pages where you can expand on your offer and describe all the benefits. Include a form where users submit their information.Tools: Unbounce Landing Pages, WordPress Landing Pages
3) Close: Convert leads into actual customers.
Use CRM software to keep track of all the important details and interactions with your contacts.Tools: HubSpot CRM
Analyze. Use analytics software such as Google Analytics or Crazy Egg to understand how visitors are interacting with your website and how well your sales team is doing.Tools: Google Analytics, CrazyEgg, KISSMetrics
Automate. Use email and marketing automation to further build trust with contacts who aren't ready to buy yet and to target the right message that relates to the needs and the lifecycle stage of each lead.Tools: MailChimp, Active Campaign, ConvertKit
4) Delight: Continue to engage with your customers by creating new offers and gradually transform them into your loyal fans which will act as your promoters.
Use surveys . Ask for feedback to ensure you are giving your customers what they want.Tools: PollDaddy, SurveyMonkey
Use smart calls to action and smart content. Make sure your calls to action and your content is geared towards your ideal content based on their interests and their lifecycle stage.
Social Monitoring. Keep track of social conversations and reach out with relevant content when your customers ask a question.Tools: Hootsuite, Cyfe, Simply Measured
---
There are five core ideas behind inbound marketing:
Content Creation and Distribution. Creating content that is bound to attract your ideal clients by solving their immediate problems, concerns, and needs then sharing that content far and wide
Lifecycle Marketing. Ideally, you want your targeted leads to become your biggest fans who will go on to spread the word about you. However, they don't just appear out of nowhere. Each lead you attract through inbound marketing will start off as a stranger. The goal is to transform each of those leads into a repeat visitor, who will become your customer and then promoter.
Personalization. We established that your content needs to speak to your ideal customer. As time progresses, you will learn more and more about their specific needs and then you can utilize that knowledge to further refine your content.
Multi-channel. Inbound marketing is not tied to one specific platform, rather it approaches people where they are, on the platform in which they feel most comfortable interacting with you.
Integration. Creating content, sharing the content across different channels and analyzing how well that content is doing – all that integrates together to allow you to put your focus on publishing the right content in the right place at the right time.
By focusing your efforts on inbound marketing, you are no longer a noise they've learned to tune out. Instead, your message becomes something they want to hear, something they want to learn more about, and that's hard to ignore.
How Does it Work?
When it comes to inbound marketing, there are 4 key actions you need to take to capitalize on your marketing strategy.
Attract Even though you might think you want to be found by as many people as possible that is not the right course of action. You want to be found by people who are most likely to become leads and ultimately, your ideal customers.
Some of the most important tools to attract them to your site include:
Blogging. If you already have a blog, then you have an excellent start. Blogging is one of the easiest methods to create content that speaks and educates your target audience.
SEO. In today's day and age, each and every one of your customers will begin their search online — either to find out how to solve a particular problem, compare products and services, or to find out more about a particular product. As a website owner, you should focus your efforts on selecting the right keywords and then create content, build links, and optimize pages around those terms.
Pages. In correlation to blogging and SEO, the static pages on your website should be optimized for your target audience as well. Rather than simply stating what you offer in dry corporate–speak, you need to speak directly to your target audience by explaining how you can help solve their needs in a language that they can relate to.
Social Publishing. Social media should be a natural extension of your blog. This is where they get to see the face behind the brand so do your best to represent your website in the best light. Aside from sharing relevant and valuable content, share content you know your audience would benefit from and don't forget to engage in the conversation. This means responding to any questions you might get on social media as well as encouraging and being a part of the conversation.
Convert Now that you have their attention, it's time to convert those visitors into leads. This involves gathering their contact information. Ideally, you will have their full name, address, and email. At the very least, you can get by with just their email address.
When it comes to converting visitors to leads, the best assets include:
Forms. These are usually email signup forms where you ask for their email (most often their name, too) in exchange for a download. A good place to feature a signup form is below a blog post or in your sidebar, and to repeat it again in the footer of your website. As with anything, your forms should be easy to fill out and stand out from the rest of your content.
Calls-to-Action. Calls-to-Action or CTAs are buttons or links that encourage your visitors to take action with words such as "Download my Checklist to Complete XYZ" or "Sign up for a live workshop." Sometimes they include a form, and often they lead to a separate form where visitors can submit their information.
Landing Pages. Landing pages serve a specific purpose–and that is to convert visitors to leads. This is where you expand on the offer in the call-to-action and where you include another form where the user can submit their information. The information submitted on the landing page can be as simple as a form including a name and an email field, or it can be somewhat longer including more specific information that can be used by your sales team. Landing pages should not include anything else other than your offer and the form so distractions are minimized.
Once your visitors have filled out the form on your site, they become contacts. It's your responsibility to keep track of those leads in one place by using a custom marketing database. Make sure that every interaction you've had with your contacts is documented and that it makes sense for you. In the long run, that information can be used to optimize your future interactions with leads and visitors.
Close The next step in inbound marketing strategy is to convert your contacts into actual customers. This can be achieved through various marketing tools which include:
CRM Software. Customer Relationship Management software allows you to keep track of all the important details about all your contacts, companies, and deals in your sales pipeline. Above all, it makes it easy to get in touch with your ideal audience at the right time.
Closed-loop Reporting. This allows you to analyze your marketing efforts and see which one of those methods works best to bring in new leads, how well your sales team is doing to convert those leads into customers, and much more. When you integrate this with your CRM software you can have a snapshot of your marketing strategy at a glance at all times.
Email. If your visitors aren't ready to become clients yet, email can be an effective tool to build trust and ease their decision to make a purchase.
Marketing Automation. This includes creating a series of automated email messages that relate to the needs and the lifecycle stage of each lead. The content of the messages will be different depending on where and when a visitor actually converted into a lead and that's one of the biggest benefits of inbound marketing.
Delight At this stage of your inbound marketing plan, your tools should include:
Surveys. Asking your current customers for feedback is the best way to ensure you are providing them with what they are looking for instead of randomly guessing and hoping to hit the target.
Smart calls-to-action. By smart, I mean calls-to-action that are specific to your ideal customer depending on the lifecycle stage.
Smart content. Content that is geared towards your ideal customers' interests and challenges written in a language that's familiar to them.
Social Monitoring. This is also sometimes called Social Listening, which refers to actively keeping track of social conversations that matter to you, listening to customers' questions and comments, and then reaching out to them with relevant content.
What Goes Into an Inbound Marketing Plan?
Creating remarkable content Long gone are the days when it was enough to churn out content filled with keywords. The competition is tough and you need to make sure your content stands out from the rest. This comes by creating content that is targeted to your ideal buyer persona – content that inspires, entertains, provokes, and educates.
Using the power of visuals
In the age of short attention spans, images really do speak more than words. A number of studies have shown that the
average attention span is just 8 seconds
so make sure those 8 seconds count. Creating highly engaging visual content that begs to be shared is a good way to get the attention of your target audience. This includes not only photos but infographics, slideshows, videos – anything that will make you stand out from your competition.
Mastering CTA
Your Calls-to-Action shouldn't be ignored. Spend as much time on
crafting compelling CTAs
as you do on creating your content and your visuals. The last thing you want is to spend hours on an epic blog post and infographic only to have people leave your site because your CTA wasn't clear, or worse, weak.
Utilizing the power of analytics
You won't know how it works unless you gather and measure data. It's important to know which pages on your site brought in the most leads, where they clicked, and where they dropped off. Similarly, you want to know how many of your contacts actually turned into customers, at which point on your site they converted, and where they were when they left. You won't know any of that without analytics software.
Google Analytics
is great for tracking your website and more sophisticated tools like
CrazyEgg
can show you exactly where your visitors are clicking.
Implement testing
After you have results gathered from analytics, you can start testing different variations of your marketing strategy. This is often referred to as
A/B testing
and you can set up tests for almost anything, your headlines, your CTAs, content, the color of buttons, and so forth. This is a valuable part of any marketing plan because it lets you tweak until you get that perfect solution that is guaranteed to convert.
Getting the right people on your team As a website owner, you already wear many hats and not all of us are born marketers. Knowing when to bring people on your team to help with your marketing efforts is a smart decision. However, you should be careful to hire those whose skill set not only matches your strategy, but also those whose vision and value align with yours. They should also be ready to continually learn and improve so you can update your marketing plan as your goals grow.
SEO
The best way to attract visitors to your site is by optimizing your SEO efforts. By that, I mean researching your keywords and then planning your content around them. However, your SEO efforts should be boosted by using a plugin such as our own
SmartCrawl
SEO plugin or
All In One SEO
.
Content Structure Another important factor when it comes to SEO is your content structure. This means setting up a customized permalink structure for your blog as well as creating categories for your content. You can then include categories in your permalinks since URLs are important factors in search rankings. By doing this you inform not only the search engines but your visitors as well how a particular blog post relates to other content on your site.
Image Optimization When it comes to image optimization for inbound marketing you need to make sure that your images are compressed and load fast and that their names include words that can help you get found online. It's one of the most overlooked aspects of proper inbound marketing and yet the way you handle images matters for several reasons:
Image size affects page load time which in turn affects search engine results.
Properly named and tagged images can show up in image search results where there is often less competition.
Images increase engagement. According to a study done by MarketMeSuite content with images attracted 94% more pageviews than content without images.
Enter Media File Renamer. Media File Renamer is a plugin that automatically renames your media filenames depending on their titles. When files are renamed, the references to it such as posts, pages, custom types, and their metadata are also updated.
Social Media Integration Finally, no inbound marketing strategy would be complete without integrating social media. After all, you want your content not only to be found, but also shared on social media so your message can reach even more targeted leads.
For the last step, your WordPress website should include social media sharing buttons which make sure your content appears correctly no matter which social network your content gets shared on.
For a complete list of the best social media sharing plugins check out our ultimate collection of social media sharing plugins.
source: premium.wpmudev.org/blog/inbound-marketing-checklist/